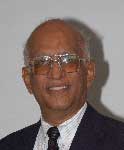 New leadership
Just over a year ago, I thought ISA was a "melting iceberg". Since then, the organization has been making good progress, and plans are crystallizing for new growth and success. Executive Director Pat Gouhin, who joined in January 2006, has excellent related experience with the dynamics of volunteer-driven organizations. He has clearly developed a strong relationship with the volunteer chain-of-command which includes past president Ken Baker, current president Steve Huffman, and president-elect/secretary Kim Miller Dunn. This group has a consistent vision and leads a unified Executive Committee and Executive Board that is focused on the future.

Today, one can sense a spirit of new drive and determination within the ISA organization to make it much more than it has been for several years. In addition to an amalgamated volunteer leadership team, the existing team of dedicated people with years of industry knowledge and experience has been expanded with several new people to generate new growth through several focused objectives.

ISA was formed in 1945 as the Instrument Society of America, and the name was changed in 2000 to Instrumentation, Systems and Automation Society.

As a symbol of the new expanded focus, it is anticipated that the name will be changed to International Society of Automation. This name, subject to review by society delegates at Expo 2007 this year, reflects two important differences in focus: "International" and "Automation".

While originally an "instrumentation" society, ISA is now focused on the broader aspects of "automation" and aims to be a catalyst for creation of the automation profession of the future, marketing the society's core competencies to automation professionals around the world.

At the end of July 2007, the total ISA Membership was 28,629. While this is still down from 2005 and earlier levels, it is up over three percentage points from a July 2006 low. This indicates that membership has essentially leveled off with the multi-year decline stopped.

The original name was reflected in membership being overwhelmingly American - 65% US, 10% Canada. If ISA is to truly be a successful global organization the membership percentages should be the inverse of the current ratio, about 75% from outside North America. And, if one makes the reasonable assumption that membership has stabilized in N. America, then international membership should generate growth of at least 300%, to well over 100,000 members.
International Drive
The new ISA expects and intends to expand world membership to become truly "international". Tim Feldman, Director of Global Operations, joined ISA in July 2006 in a new position tasked with developing the strategy to transform ISA into a global organization. During his first year, together with a task force of society leaders, he completed the due diligence and market analysis that led to the funding of the global program, as a new venture investment through ISA's cash reserves.

During his first nine months in the position Tim Feldman traveled around the world - to Beijing, Shanghai, Hong Kong, Singapore, Melbourne, Sao Paulo, Bogotá, Dublin, London, Hannover, Dubai, Abu Dhabi, Mumbai, Bangalore, Chennai, St. Petersburg (Russia) and neighboring Canada - twice to several of these locations. In each of the key markets meetings were held with suppliers, end-users, integrators, government officials and academia, to assess needs and review potential business partners who could deliver ISA's core competencies to the automation profession.

These meetings led to a proposal which will quickly establish an ISA office in India, led by an engineer with a business development and marketing background. Recognizing that it will take 5-7 years of continued investment to bear fruit, ISA leaders have approved investing significant funds to establish a firm footprint in India. Similar proposals for investments in key markets of the Pacific Rim, Middle East, Europe and South America are expected. The investment from ISA's reserves to enter these markets is separate, and in addition to, the budgets that will be established to fund the activities of global operations management.
Key objectives
ISA has several key objectives:
Develop & coordinate standards
Provide education and training for automation jobs
Assess competency through certification and licensure programs
Publish books and technical articles
Host conferences and exhibitions for automation professionals
No other organization anywhere in the world covers these important functions to serve the global automation business.
Standards Development & Coordination
In a fragmented business, the role of standards coordinator is best served by a neutral third-party organization, which can mediate effectively and is fair to all. For industrial automation, ISA stands out as the best choice and its Standards and Practices involvement is one of the organization's major services to the automation industry.

ISA is already globally recognized as a standards writing organization and has developed consensus standards for automation, security, safety, batch control, control valves, fieldbus, environmental conditions, measurement and symbols. Substantial progress has been made recently in high-visibility standards development including Wireless Systems for Automation (ISA-SP100) and Management of Alarm Systems (ISA-SP18). New or revised standards have been published in key areas including Enterprise-Control System Integration (ISA-SP95), Electronic Device Description Language (ISA-SP104), Electrical Equipment for Hazardous Locations (ISA-SP12), and Control Valves (ISA-SP75). Accredited by the American National Standards Institute (ANSI), ISA has published more than 135 standards, recommended practices and technical reports. To help with standards compliance, ISA is starting the Automation Standards Compliance Institute. Initial staffing has already commenced, with early focus on cyber security and wireless systems.

At the end of 2006, ISA decided to offer free downloads of Standards as a member benefit and this has been a clear success. With about 4,200 downloads in all of the year 2006, there were some 50,000 downloads during the first half of 2007. This is clearly providing additional exposure and interest in ISA services, and a significant portion is international.
Professional Certifications
ISA certification provides an objective, third-party assessment and confirmation of a person's skills. It gives them the opportunity to stand out from the crowd and be recognized while concurrently providing value and security to the employer. There are several certification, recognition and licensing programs which will contribute to defining the automation professional in the future: Certified Automation Professional™ (CAP™), Certified Control Systems Technician® (CCST®) and Certified Industrial Maintenance Mechanic™ (CIMM™). In addition, ISA develops custom in-plant courses to satisfy customer needs, as part of the Automation Professional Curriculum.

In addition, ISA supports Control Systems Engineer (CSE) Registration through active membership and participation in the National Council of Examiners for Engineering & Surveying (NCEES), CSE Exam Development, Promotion of CSE registration, and Preparation Material: Instructor-led training course, Instructor-led web seminar series and Study Guide. ISA supports the development of the CSE exam by providing volunteers to NCEES , promoting the CSE exam and providing educational and preparation materials to candidates.
Corporate & Government Relations
Workforce development is an important concern to every industrial company in the US, as well as worldwide. When the current generation of older workers - the baby-boom-bubble - retires, there will be a serious shortage of skills. What are projections for future needs? What training will be required to obtain productive workers quickly? ISA is the primary organization that is addressing these needs for industrial automation and process control businesses.

ISA is uniquely positioned to bring together industry needs in a qualitative and quantitative manner and speak in a voice that is louder than any one company. Workforce development can be the cornerstone of corporate membership activity that redefines how the automation industry views ISA. The premise centers on ISA providing value to the companies in broad and strategic ways.

Government relations is closely coupled with corporate membership. Industry needs can be identified and resolved collectively with a government relations initiative employed to positively impact legislators and other stakeholders. When a legislative matter arises that impacts the automation profession, law makers must think of ISA. This is a process that demands steady involvement and ISA leadership is working diligently in this arena.
Conferences & Exhibits
ISA hosts the largest conference and exhibition for automation professionals in the Western Hemisphere. During recent years, attendance has been declining in the USA and Europe, but is still strong in the burgeoning areas of India, China, the Far East and S. America. The society's new international drive, coupled with its long experience in running automation exhibitions, should generate new and increased involvement in this major arena.

In recent years, in an effort to modernize and increase attendance among younger professionals at trade shows, ISA has developed several new initiatives including the new "YAPfest" - a premier event for Young Automation Professionals, and Innovation Alley, developed and led by industry-guru Dick Morley. In addition, there are International Student Games and exhibitor theatre presentations on the exhibit floor, Specialty Pavilions (Bus, Industrial Communications, Software Solutions, Environmental, Sensors), Control Systems User Forums and streamlined, improved technical conference programs.
Print & Web Publishing
ISA's flagship publication InTech has had strong results year over the past year. With over 80,000 audited circulation, the magazine is available in both print and electronic formats. Led by Gregory Hale since January 1999, the editorial team is staying on top of industry trends and hitting the pulse of the industry. The totally product-agnostic approach to feature stories, while not winning favors with advertisers that want their products mentioned in editorial, really resonates with readers who appreciate the unbiased focus on technical issues. The editorial team has some great plans brewing for the InTech brand. In a competitive publishing environment, InTech is slowly but surely picking up market share.

Not only is the magazine doing well, so too is the weekly e-newsletter which started in 2001 with lots of topical editorial. Circulation continues to grow with a pretty full slate of editorial and advertising, the hallmark of a solid publication.

ISA continues to publish several superb books, directories, technical papers, and software - focused on a wide variety of measurement, control and automation topics. Their web presence is also significant - the ISA website covers automation with considerable depth and breadth, and generates major web traffic.
Automation Federation
Currently, there is a fragmented community of automation professional associations and societies, creating opposition and a struggle for resources. Many small user groups and technically targeted societies have formed in recent years, creating competition for time and money of individual members and interested companies. This dilutes and fragments resources and leadership available.

The Automation Federation is an association of member organizations providing awareness, programs and services that continually enhance the automation profession. The current membership includes ISA, WBF - the Forum for Automation and Manufacturing Professionals, the Open Modular Architecture Controls Users' Group (OMAC) and the Wireless Industrial Networking Alliance (WINA).

The Automation Federation was formed to create an industry mechanism that would pull-together technically targeted associations and societies engaged in manufacturing and process automation activities to work collaboratively to meet the needs of the marketplace. The objectives are to facilitate and catalyze the development of collaborative industry standards, guidelines and best practices, improve individual organization's operating efficiencies, enhance individual organization's ability to diversify and grow, and better serve the end-user and customer through collective maximization
Conclusion
In the new global business environment, ISA is re-orienting to serve the needs of international automation professionals and global business. The new focus on international automation will generate significant growth and success.
Related links:

Book Choice


Pinto's Points
How to win in the
Automation Business
---


Go shopping - books, electronics, CD/DVD
---
---
---
Selected advertising coming here.
Contact Jim Pinto
for rates.

---
---
---
---